As the strong impulse to wander or travel and explore the world, proposed development 'Wanderlust' brings golden twin-tower high-rises and an entertainment district to 24 – 26 Orchid Avenue, Surfers Paradise. Intending to capture the spirit of roving and traveling, the build of the large mixed-use development with twin hotel and residential towers from the heart of Surfers Paradise is the next enterprising wunderkind of superannuation-backed Sydney-based EG Funds Management.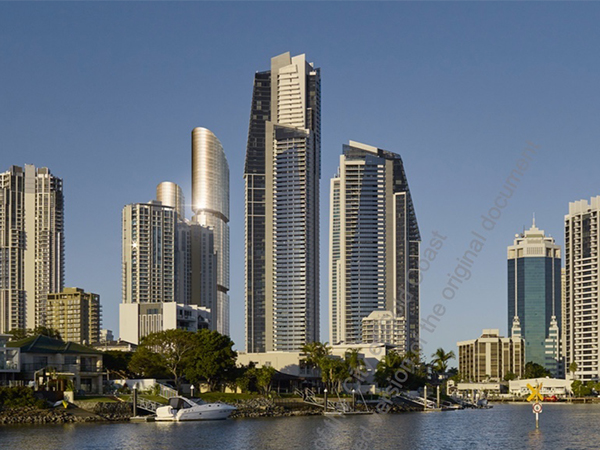 The proposed site for the Wanderlust Development
Source: Gold Coast City Council
With Melbourne architects Elenberg Fraser at the designing helm, the proposed twin-towers will rise to 71-storeys and 55-storeys high; offering permanent 770 residential apartments, 270 short term stay and 400 hotel rooms. The merging of four lots totalling to a massive 5,254 m2 sees the proposal come across like a clubs and Vegas style entertainment precinct.
Adjacent to the Gold Coast light rail and forming the Paradise Centre and The Forum, the site has been owned by EG since 2010, and is currently home to GC nightlife icons SinCity Nightclub and The Bedroom Lounge Bar.
In their place, the  proposed Wanderlust Pool Club will offer three podium levels of entertainment and leisure. The first podium level will feature a fully fledged pool club including two main pools, smaller sunken pools, private jacuzzi rooms and cabanas, along with three bars and a dance floor. The Pool Club will also extend into a club attracting and presenting world-class entertainment. Proposed restaurants and bars will offer intimate spaces above the pool club, with private dining areas looking out to the streets below with shops on ground level and a landscaped public plaza.
The third floor podium level will contain residential amenities primarily for use by permanent residents with:
Training/fitness studios
Pool/snooker rooms
Rock climbing wall
Private dining rooms
Outdoor gym and lawn areas
Outdoor cinema
Pool
Sun lounges
With an estimated injected of $2.4 billion into the works, public transport and sporting venues have been boosted ahead of the 2018 Commonwealth Games. The number of international developers plunging into the Gold Coast rush of development also shows no end in sight for a dive just yet.
More details on the proposal with City of Gold Coast> here.